Dorfner up-to-date
Join us at the ECS. From 19 - 21 March 2019 in Nuremberg.
You will find us at Booth 309 in hall 7A.
more information
We wish you a Merry Christmas and a successful New Year 2019.
more information

The new GRANUCOL® HSAP brochure is available.
It offers all important information about our composites for sanitaryware.
more information
Dorfner at the 2018 Career Day
This year, over 100 companies from various industries throughout the region took part in the career fair run by the OTH Amberg-Weiden.
With the aim of recruiting qualified junior staff, the companies had the chance to present themselves as possible employers to the OTH students and meet with potential candidates.
Besides learning about the respective companies, the students could inquire about internship semesters, bachelor's or master's theses, or even starting their careers.
Our company was also represented there and had the pleasure of welcoming numerous interested students to our stand, where we discussed career opportunities at Dorfner.
more information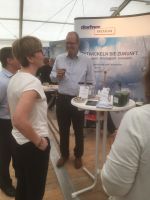 New cleanliness and safety regulations as a prerequisite for loading
klick HERE for all information and the required documents
more information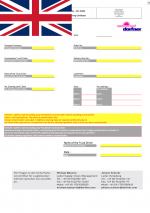 That was the theme of this year's Dorfner Partner Days, a bi-annual meeting to which Dorfner invites its
partners from all over the world.
With 30 participants from 15 different countries in attendance, we kicked off a new fiscal year full of innovations and business ideas.
The presentations showed new flooring products and promising joint business opportunities in composite materials for both private and public use (e.g. bathrooms, kitchens, furniture). With its acquisition of ACS as subsidiary, Dorfner is actively repositioning itself in this space. Also presented were the latest innovations in the area of color products and applications thereof.
Among the event's highlights were the practical demonstrations in flooring and color, a guided factory tour, and of course the ongoing knowledge exchange between partners.
Rounding off our days together was a joint opportunity to take part in the sport known as 'Bavarian curling'. With verve and a goodly portion of 'high spirits', the teams enthusiastically racked up the points against each other.
more information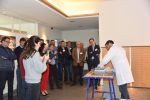 Vanessa Kühn, a student at the Schwandorf Technical College (FOS Schwandorf), was successful in her application for an internship in the research and development department of Dorfner. Currently, the young student switches every two weeks between the school and the lab. During her internship, she's been dealing with colors and binders – topics that are well suited to her chosen major at the FOS Schwandorf: agriculture, biotechnology and environmental technology. It's the only study program of its kind in the Upper Palatinate, which is why it's so attractive to the students at this school.
Vanessa Kühn's dual-track education is a good example of what distinguishes the FOS. It's the ideal mix between theory and practice, which is in high demand on the job market. This is also confirmed by Christian Eiblmeier, special adviser for the sciences, who knows that FOS graduates are welcomed with open arms by commercial enterprises.
Dorfner is committed to helping talented young people from the region gain early insights into business practices so they can get acquainted with the kinds of activities and processes that await them later in their careers. But Dorfner also sees it as an investment in its own future. Because who knows? Maybe someday, Vanessa Kühn will go to work for Dorfner.
A report on Vanessa Kühn's work at Dorfner and the FOS Schwandorf can be found in the OTV media library at the following link:
https://www.otv.de/schwandorf-erfolgreicher-schulzweig-agrarwirtschaft-312016/
more information