For our Logistics team, every customer is a premium customer
Whether the goods are sent locally, within the region or around the world in individual packaging, as a dry bulk road shipment, by the trainload (large quantities) or on the waterways and oceans, the key to customer satisfaction is smooth planning and execution in the logistics organization. That is exactly what we do day in, day out with the passion and performance that only an experienced team can deliver.
Tailor-made distribution services
We have well-established partnerships with preferred, experienced freight forwarders and logistics specialists who organize free delivery to your door.
You have access to a full range of logistics services
All types of dry bulk delivery trucks
Dump trucks
Parcel delivery
Bulk liquid transportation
Rail freight including entire trains
Individual items, less-than-pallet loads, partial and complete loads of palletized goods
Inland waterway shipment from Nuremberg, Erlangen, Bamberg or Regensburg
Containerized sea freight worldwide
Packaging, dimensions and weight
Bulk or packaged? Paper or plastic sacks? Pallets or big bags? You will find a concise summary of everything you need to know about packaging, weight and other information in a user-friendly format at delivery details.
We recommend that you contact our logistics team to discuss a solution that is tailored to your exact needs:
Phone: +49 (0)96 22/82-142
Email: logistik (at) dorfner [punkt] com
Important and useful information about logistics and safety.
Dorfner works with highly capable logistics partners. For our customers and for us as well, it is vital that our products are delivered on time and in the best possible condition. We expect no less from our suppliers.
Click here to access important and useful information about logistics and safety.
New cleanliness and safety regulations as a prerequisite for loading
Requirements for freight forwarding for Download:

Guidelines for freight forwarding:
- AA00511 Spedition Guidlines
Click HERE for further information

Safety and cleaning instructions for freight forwarding:
- FB00301 Form for Cleaning instructions
Click HERE for further information

Control Cleaning Certificate for freight forwarding:
- FB0030 Form for Verifying Cleanliness
Click HERE for further information

This Guidelinesheets are available in 16 languages.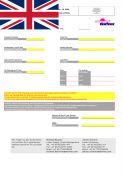 Safety is a major priority at Dorfner. Please read our safety rules and policies.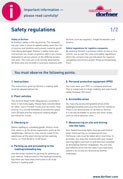 Click here for useful information and tips on how to load and secure Dorfner products.