Please choose your application!
raw materials for construction chemicals
dorfner INNOVATION
GRANUVERRE® – the ultra white Refineral® for joint fillers
GRANUVERRE® is a new ultra white functional material of the Dorfner Refinerals® class for resin bonded joint fillers, which meets the requirements for modern floors. Due to an innovative coating technology Dorfner succeeded for the first time in coating quality mineral glass balls in an elaborate process. The glass beads provide improved color strength and impart grouts an extremely high degree of whiteness. This allows a uniform and attractive appearance of the tiled surfaces.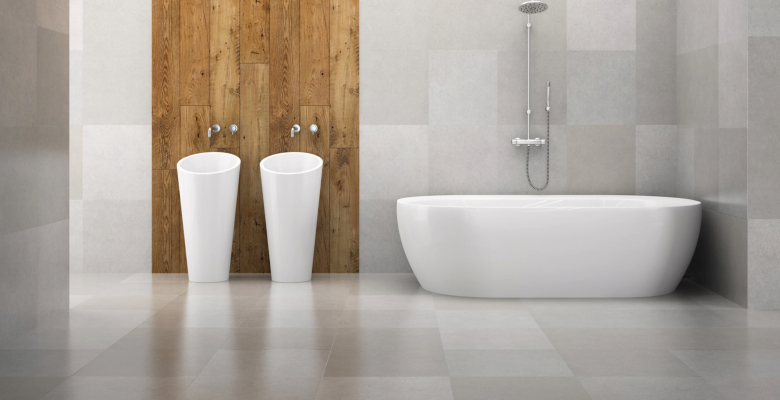 The White of GRANUVERRE® in comparison

A: Grouts with native quartz white B: White grouts with GRANUCOL® SIG white Standard C: White grouts with GRANUCOL® SIG white Special D: ultra white grouts with GRANUVERRE®
Optimal Rheology
The round form of GRANUVERRE® has an extremely positive effect on the rheological behavior and enables a fast and efficient processing of joint fillers. For durable and crack-free joints thereby ensures the high mechanical and chemical resistance of GRANUVERRE®.
The fluidity of GRANUVERRE® in comparison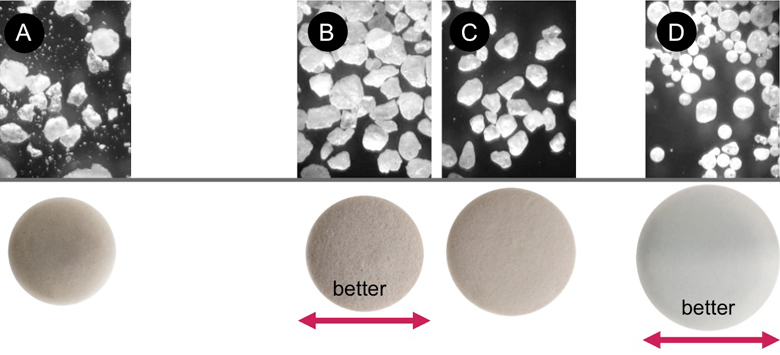 A: Quartz sand white B: GRANUCOL® SIG white Standard C: GRANUCOL® SIG white Special D: GRANUVERRE®
Result: GRANUVERRE® grout with excellent flowability
Effective protection against bacteria and fungi
The alkaline properties of GRANUVERRE® help to minimize the growth of fungi, bacteria and mold, thus making an important contribution to higher hygiene in ceramic surfaces. GRANUVERRE® is environmentally friendly without the addition of any harmful ingredients.
Customer benefits of GRANUVERRE® at a glance
Technical
Excellent rheology properties
Brilliant pearly white optic
Optimized
Improved color strength and brilliance
Microbiological activity by alkaline surface (antibacterial)
Very high chemical, mechanical and UV resistance
Bonds very well in the synthetic-resin matrix
For durable joints
more information
Operational
Extremely easy to apply
Outstanding flow properties
Can be applied very quickly in the joints
more information
Economical
High work rate
Saves time and costs during application
Exceptionally eco-friendly
more information
Construction chemical compounds need good functional fillers
Higher-performance Dorfner fillers are used in many construction chemical products including grouting, sealing, spackling and coating compounds that have a pasty consistency. They increase the volume and firmness of these compounds. Dorfner adjusts the grain composition for the desired rheology so that they can be used quickly and correctly in a broad applications window. Our construction chemical fillers also promote the drying and hardening process which has to take place quickly without cracking. They are the crucial ingredients which give these functional compounds their good, long-lasting mechanical properties.
| Grouting compounds & sealants | Plaster & mortar | Roof coatings |
| --- | --- | --- |
| DORSIMIX® | DORSILIT® fire-dried | GRANUCOL® SIG |
| DORSILIT® FG | DORSILIT® quartz powder | GRANUCOL® FFB |
| DORSILIT® quartz powder | DORSILIT® micronized quartz powder | GRANUCOL® SIG MIX |
| DORSILIT® micronized quartz powder | DORSICOAT® | GRANUCOL® FFB MIX |
| DORSICOAT® | GEBA® | |
| GRANUCOL® KG | DORVALIT® | |
| GRANUCOL® KG MIX | | |
| GEBA® | | |
| DORSILIT® FQ | | |
| DORVALIT® SQO | | |
| GRANUCOL® SQG | | |